product description
The equipment is equipped with a 180 ° turntable, with a total of 2 stations and 4 spray guns, which can realize shot peening and loading and unloading simultaneously, and improve production efficiency. The equipment is equipped with a set of 3-axis robotic arm, and the rotation of the turntable can realize the shot peening of cylindrical parts within 400mm height. Adopting the recycling method of pusher screw + hoist, the equipment can withstand load rate and equipment stability. The equipment is equipped with a 800mm diameter vibrating screen to finely and completely screen the pellets to discharge oversized and broken pellets. Equipped with a V80 continuous shot blasting system.

Comparison of shot blasting process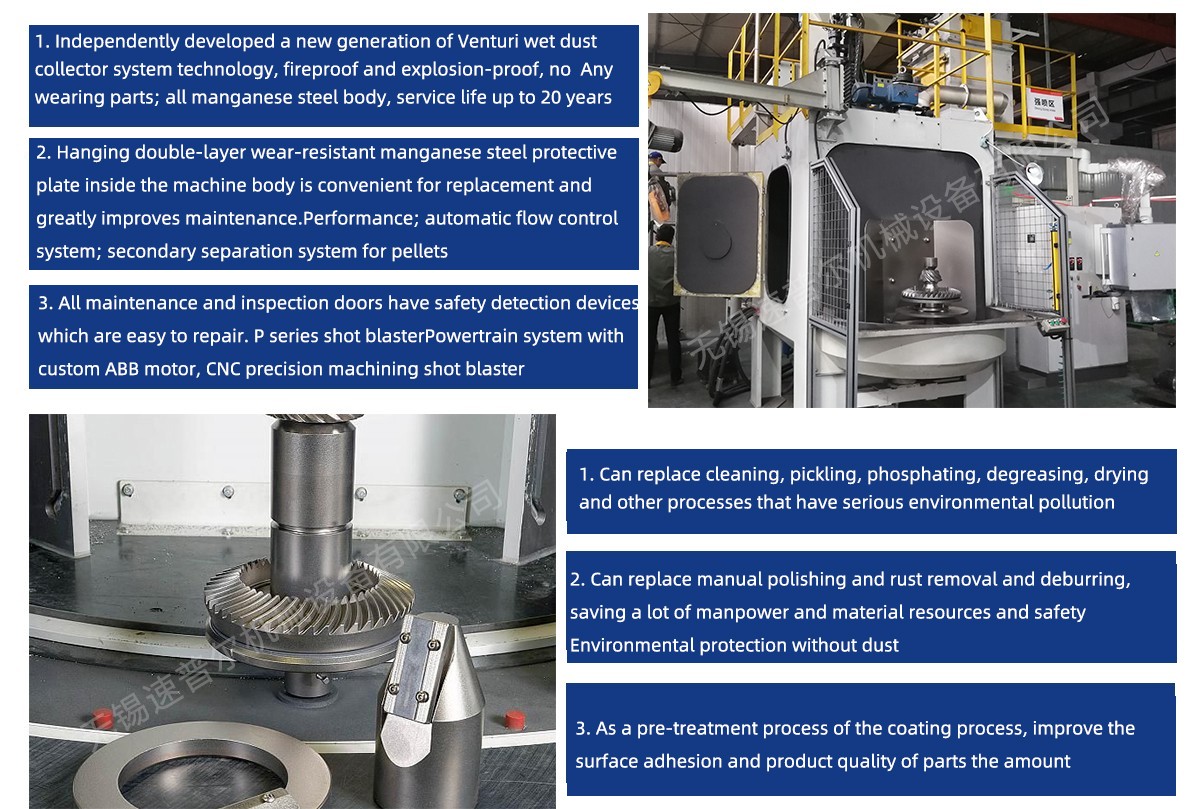 A. Installation instructions:
During installation, compare the general drawing of the equipment, place the main unit on the prepared foundation, fasten it with bolts, and install the upper part of the hoist to the main unit with bolts.
Install electrical conduit and complete wiring according to electrical drawings such as electrical schematics and interconnection diagrams
Place the spirit level on the bottom surface of the hopper, combine the base of the feeder, add the gasket and level it, and then tighten the bolt connecting the anchor bolt to the cleaning room
B. Commissioning instructions:
Adjust the position of the orientation sleeve opening
Adjust the shot supply valve and the amount of shot blasting according to the current display
Adjust the position of the counterweight to make the shot form a uniform waterfall
Adjust the upper pulley of the hoist to prevent misalignment of the belt
Adjust the sorter pipeline valve to achieve the separation effect
C. Equipment training content description:
Institutional performance and routine maintenance of equipment
Inspection method of wearing parts: replacement standard, cycle and method
Equipment operating procedures, technical requirements and methods for safe operation debugging