Comparison before and after shot blasting

Product description
① This model is a special model for stress shot peening of automotive spring parts;
② The shot blasting machine consists of feeding room, shot blasting room, discharge room, drum rotation mechanism, chain conveying mechanism, shot recovery system, storage box system, flow control system, shot blasting power system, maintenance platform system, Dust removal system and other components. The workpiece is put in from the feed side and sent out to the discharge side through the shot blasting chamber. Two shot blasters are installed obliquely on the top of the shot blasting chamber, directly above the two rollers, and are responsible for shot blasting and strengthening of the spring workpieces delivered by the chain mechanism;
③ The equipment is equipped with 2 high-efficiency and high-maintenance shot blasting machines, which are driven by belts. The maximum shot blasting capacity per minute is about 480 kg of shots (steel shot flow can be adjusted);
④ The equipment is equipped with an electric closed-loop control flow control valve system (cylinder motor flow control valve system, which can set the flow and closed-loop control), which is used to adjust the flow of steel shots to ensure the quality of shot peening.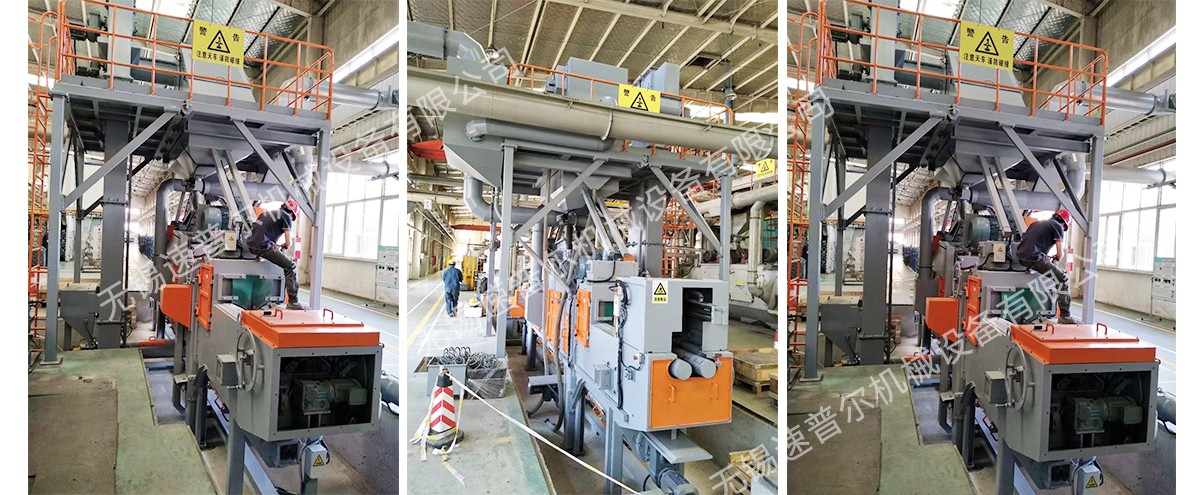 Comparison of shot blasting process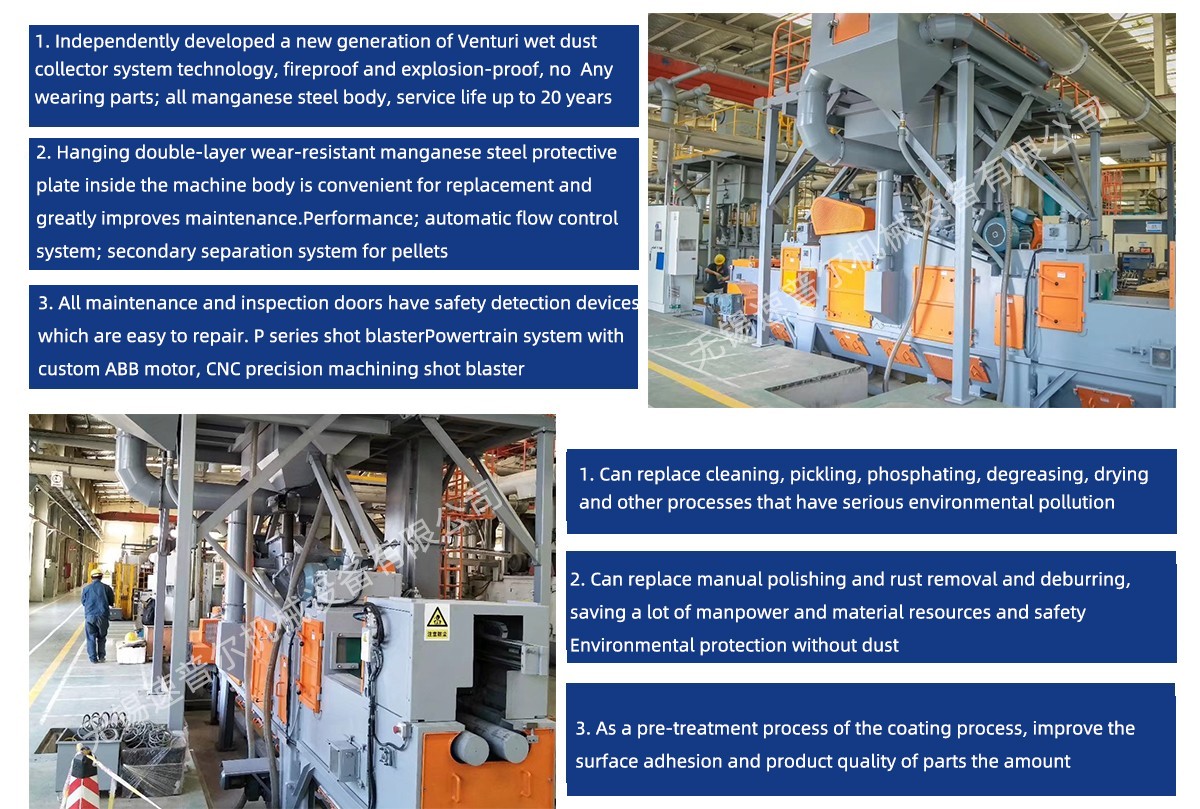 A. Installation instructions:
During installation, compare the general drawing of the equipment, place the main unit on the prepared foundation, fasten it with bolts, and install the upper part of the hoist to the main unit with bolts.
Install electrical conduit and complete wiring according to electrical drawings such as electrical schematics and interconnection diagrams
Place the spirit level on the bottom surface of the hopper, combine the base of the feeder, add the gasket and level it, and then tighten the bolt connecting the anchor bolt to the cleaning room
B. Commissioning instructions:
Adjust the position of the orientation sleeve opening
Adjust the shot supply valve and the amount of shot blasting according to the current display
Adjust the position of the counterweight to make the shot form a uniform waterfall
Adjust the upper pulley of the hoist to prevent misalignment of the belt
Adjust the sorter pipeline valve to achieve the separation effect
C. Equipment training content description:
Institutional performance and routine maintenance of equipment
Inspection method of wearing parts: replacement standard, cycle and method
Equipment operating procedures, technical requirements and methods for safe operation debugging